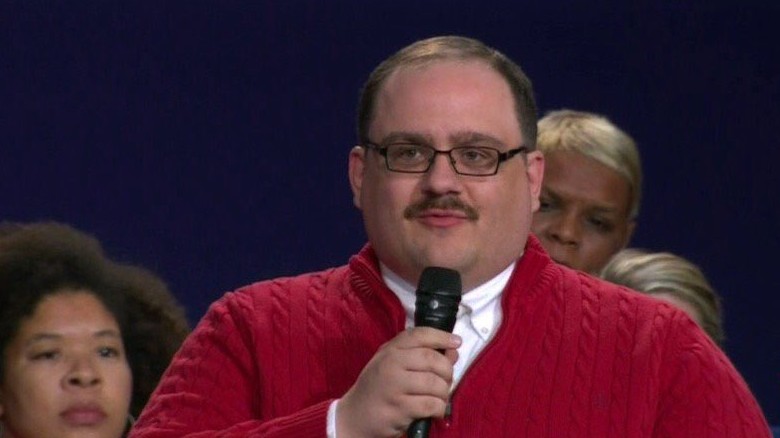 This is Ken Bone.
Ken Bone is a 34 year old coal plant worker living in a steel town near St. Louis, in southern Illinois. He asked a question about energy policy at the second presidential debate last Sunday - specifically regarding the candidates' plans for coal power plants and retrofitting older, dirtier plants with new scrubbing technologies. It was a two part question inquiring about both the candidates energy policies and environmental policies.
Ken Bone wore a bright red sweater, and sported a very interesting moustache.
Within only a few hours, he was an internet meme. He became a media celebrity. He was apolitical, stating ad nauseum that he was truly undecided and would not be revealing his candiate choice. This is important, because it gives us a look into what the media does. It gives us an almost clinical look into how they create stories and drum up controversy.
The Honeymoon started off great.
Washington Post:
America needed a hero. Kenneth Bone answered the call.
Esquire:
Rather than make this man some meme to be twisted by the dark scum of the web, let's recognize him for being the one person not sucking our collective will to live.

He has no agenda. No one is marching him on stage as a political prop (yet). He's just a normal dude. He's not a Pepe meme or a Twitter egg or a Bernie Bro, he's just Ken Bone—somehow the one guy not spewing hate and divisive language this year. He's someone, something to finally feel good about.
CNN:
Today, the pundits will argue over who won the presidential debate. But we think we can safely deliver the verdict:

Ken Bone...

...Ken Bone -- he's no conformist. He's the person a divided America needs right now. The man who brought some levity to the ludicrous, some vim to counter the vitriol. The only thing that was making America great again.
Sports Illustrated Online:
Election hero Ken Bone likes politics, but also hockey
He was being interviewed by all sorts of journos, reporters, and personalities. He was interviewed by Jimmy Kimmel.
He had his own shirt made that you can buy online.
Interacting with Ken Bone meant "entering the Bone Zone". Porn companies were giving him offers for webcam shows. Pretty soon he even had an
Uber endorsement.
This honeymoon phase gives us a glimpse into how the media creates narratives. Ken Bone would have been a short lived meme anyway regardless of whether or not the media decided to fan the flames. Within only fourty-eight hours of the debate there were hundreds of 'articles', if you could call them that, talking about Kenneth Bone, American Hero. Most of these articles included some thinly veiled bitching about Donald Trump and his mean words and lying ways.
All these media whores, desperate for page views, hopped on the bandwagon and put the national spotlight on a regular Joe Six-Pack from southern Illinois. Of course, this wouldn't be the media we know and hate if they didn't try to destroy him in the process.
It started with an AMA over on Reddit. Unlike most pre-rehearsed, PR-manicured commercial AMAs, this was just a regular dude who used his regular reddit account. This ended up being a mistake. Here were some of the posts he's made with his account before the AMA:


Worst of all was the post where he thinks the shooting of Trayvon Martin was justified:

What followed was the aptly described 'media fuckery'.
Gizmodo:
Ken Bone Forgot to Delete His Reddit Porn Comments, Said Trayvon Martin Killing Was 'Justified'
CBS News:
The internet's calling out Ken Bone over his Reddit history
CNN Money:
Ken Bone's charm may now be a thing of the past.
The Daily Beast:
Ken Bone's Disturbing Reddit History Shows He's Not Nearly as Adorable as We Thought

Ken Bone was hailed as a symbol of all that is right and good in America after his debate question on Sunday. Now, however, a fuller picture of the guy in a red sweater is emerging.
Of particular interest was the fact that every news article claimed that the worst thing in his history was the fact that he thought George Zimmerman was justified in shooting Trayvon Martin. This, I may remind you (since we tend to forget these things in Clown World) was also the opinion of the grand jury that acquitted Zimmerman.
The Daily Beast:
Most damaging of all, he suggested the killing of Trayvon Martin was "legally justified"—however we should note that Bone did go on to add that George Zimmerman, who was acquitted in the killing of the unarmed teenager on the basis of Florida's controversial Stand Your Ground law, was a "big ole s**t bird."
Quartz:
He also suggested George Zimmerman was justified in shooting Trayvon Martin. ... Are these incredibly informed opinions? No, of course not. In fact, many of the comments I've seen so far are unequivocally offensive.
On Friday, five days after the debate ended, the New York Times, in its sophisticated serif headline font, eruditely concluded that
"We May Be Leaving the Ken Bone Zone"
.
The New York Times:
This is an obituary for a fictional persona: Ken Bone, America's Red-Breasted Hero.

This Ken Bone of our imaginations was born on Sunday, during a presidential debate, when the American public saw him and decided that he was more important than whatever those two nameless individuals running for president had to say...

Now the bell tolls for Mr. Bone.
This is a story told in headlines and quips, but its a story we all know very well. By now we all have it memorized. Man wears red sweater to debate, media decides to bruteforce a narrative down our throats of a good guy gone bad. While the
Quartz article
complained that his meme-dom reeked of the kind of mean-spirited attitude (in their words) jocks have when they 'adopt' a nerd for a day, the only people that used and abused poor old Ken was the media, desperate for page views and advertising dollars and willing to stoop as low as necessary to get them. They probably don't even realize they're doing it since by now its probably second nature to them.
Even when covering a light hearted story like this, the media manages to not only blow it way out of proportion, but also tries to destroy the people involved in the process. So the media does to Ken Bone, so it does to Donald Trump and countless others.